The Plants
Astrantia 'Venice'
masterwort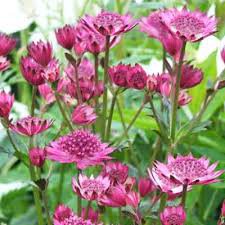 £9.99
Rich burgundy-purple bracts form a rosette around a cluster of dainty pincushion flowers. Astrantia are a beautiful and extremely photogenic plant, flowering June to August they are a must have addition to a summer bouquet.
Type
Foliage: Deciduous
Hardiness: Hardy
Vigour: Medium growing
Uses
Beds and borders
Flower arranging
Cottage style garden
Woodland area
Special features
Low maintenance
Ground cover
Care instructions
Deadhead before seed is ripe to prevent self-seeding. After flowering, plants can be rejuvenated by cutting them back close to the ground - fresh new foliage and a late crop of flowers start appearing shortly after. Spray for mildew during the growing season. Divide in Spring.
Dimensions
Size: Small
Pot size: 2 litre
Eventual height: 60cm
Eventual spread: 40cm
Positions
Soil pH ranges