The Plants
Cistus x purpureus 'Alan Fradd'
rock rose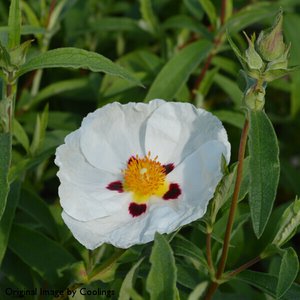 £11.99
A beautiful, evergreen, Mediterranean shrub producing masses of white papery flowers, with maroon basal marks at the base of each petal, in June and July. This rounded, sun-loving rock rose is perfect for a sunny border or in a container.
Type
Shrubs
Plants on a budget
Foliage: Evergreen
Hardiness: Half hardy
Vigour: Medium growing
Uses
Beds and borders
Cottage style garden
Containers
Gravel garden
Mediterranean style garden
Special features
Low maintenance
Drought tolerant
Evergreen
Care instructions
Grow in poor, moderately fertile soil in full sun. Generally lime-tolerant but may become chlorotic on very chalky soils. It does not respond well to pruning. Old leggy plants are best replaced.
Dimensions
Size: Small
Pot size: 3 litre
Eventual height: 90cm
Eventual spread: 90cm
Positions
Aspects
Soil types
Soil pH ranges
Special conditions