The Plants
Clematis 'Jackmanii'
clematis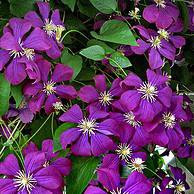 £11.00
One of the best loved clematis varieties. Deep velvety purple flowers are produced from July to September. Its extremely hardy habit makes it suitable for even the most exposed sites.
Type
Award of Garden Merit
Foliage: Deciduous
Hardiness: Hardy
Vigour: Medium growing
Uses
Beds and borders
Cottage style garden
Contemporary style garden
Special features
Care instructions
Grow in moist but well-drained soil in full sune or partial shade. In Spring cut back the stems to a pair of strong buds 15-20cm above ground level before new growth begins. This makes late-flowering clematis useful for training into shrubs, trees and climbing roses as the clematis growth is removed each spring and so never becomes too much of a burden on its supporting plant.
Dimensions
Size: Medium
Pot size: 2 litre
Positions
Special conditions