The Plants
Clematis viticella 'Little Bas'
clematis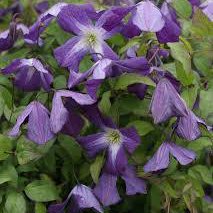 £10.99
A beautiful deciduous, perennial climber with dark green leaves and small, nodding, violet-blue flowers from midsummer to early autumn.
Type
Foliage: Deciduous
Hardiness: Hardy
Vigour: Fast growing
Uses
Beds and borders
Cottage style garden
Special features
Attractive to wildlife
Low maintenance
Attractive to bees
Care instructions
Prune in late winter or early spring when buds show signs of growth – typically in February. Cut back all the old stems to the lowest pair of healthy buds 15-30cm (6in-1ft) above soil level.
Dimensions
Size: Large
Pot size: 2 litre
Eventual height: 400cm
Eventual spread: 150cm
Special conditions