The Plants
Clematis 'cirrhosa 'Jingle Bells'
clematis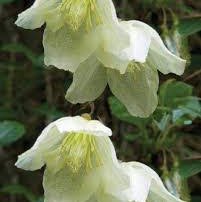 £10.99
Large, nodding, cream-coloured flowers appear from winter to early spring and are followed by attractive seedheads. This charming climber is ideal for training around a doorway in a sunny, sheltered location where the scented blooms can best be appreciated.
Type
Foliage: Deciduous
Hardiness: Hardy
Vigour: Medium growing
Uses
Beds and borders
Cottage style garden
Contemporary style garden
Special features
Care instructions
No routine pruning is necessary. If the spread of the plant needs to be restricted prune immediately after flowering, cutting back overlong shoots to healthy buds. Apply a slow-release balanced fertiliser and a mulch of well-rotted garden compost around the base of the plant in early spring.
Dimensions
Size: Medium
Pot size: 2 litre
Eventual height: 500cm
Eventual spread: 200cm
Positions
Aspects
Soil types
Soil pH ranges