The Plants
Cornus controversa 'Variegata'
wedding cake tree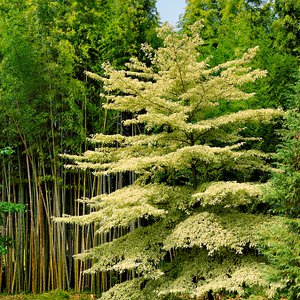 £69.00
A beautiful, small tree often called 'wedding cake tree', because of its distinctive, horizontal, tiered habit resembling a wedding cake. It has bright green leaves with bold, creamy-white margins which turn rich red and purple in autumn. White clusters of flowers up to 18cm across are borne in early summer followed by round, blue-black fruit. It tolerates dappled shade but will perform best in fertile, moisture-retentive soil in full sun. Caution: Berries may be harmful if eaten.
Type
Award of Garden Merit
Foliage: Deciduous
Hardiness: Hardy
Vigour: Medium growing
Uses
Beds and borders
Cottage style garden
Specimen
Special features
Low maintenance
Architectural
Berries
Care instructions
Grow in fertile, moist but well-drained soil in full sun. Will tolerate partial shade. When planting incorporate plenty of well-rotted garden compost to improve the soil quality. Do not prune since this would interfere with its graceful, tiered habit.
Dimensions
Size: Large
Pot size: 15 litre
Eventual height: 800cm
Eventual spread: 800cm
Positions
Aspects
Soil types
Soil pH ranges