The Plants
Digitalis x mertonensis
strawberry foxglove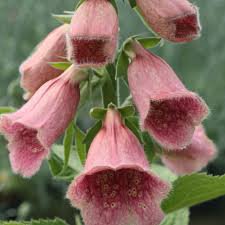 £7.99
A lovely. semi-evergreen, clump-forming foxglove with dark green leaves and long, erect spikes of coppery-tinted mauve flowers 5cm in length. Although it will grow in the sun, the soil needs to remain reliably moist over summer. Caution: Harmful if eaten.
Type
Award of Garden Merit
Foliage: Deciduous
Hardiness: Hardy
Vigour: Medium growing
Uses
Beds and borders
Flower arranging
Cottage style garden
Woodland area
Special features
Attractive to wildlife
Attractive to bees
Architectural
Care instructions
Cut back main flower spike as it fades to encourage a second flowering. Deadheading will also help avoid problems with numerous seedlings. New seedlings that appear can be easily moved in their first season, while still small.
Dimensions
Size: Medium
Pot size: 2 litre
Eventual height: 100cm
Eventual spread: 45cm
Positions
Aspects
Soil types
Soil pH ranges