The Plants
Dodecatheon meadia
Shooting Star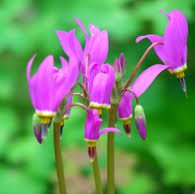 £8.99
This early riser delights the spring garden with umbrellas of hanging reflexed flowers, just like cyclamen. The fresh light pink flowers add a flash to shady spots, where the plants with thrive in the cool conditions. Deciduous foliage rosettes fade by midsummer, returning each spring before a flush of tall upright flower stems. This is the perfect spring perennial for anyone looking to lift shady areas of the garden.
Type
Foliage: Deciduous
Hardiness: Hardy
Vigour: Fast growing
Uses
Beds and borders
Cottage style garden
Woodland area
Special features
Low maintenance
Attractive to bees
Care instructions
Grow in moist, well-drained in partial shade. Feed and water well until established and protect from slugs and snails when leaves are tender.
Dimensions
Size: Small
Pot size: 2 litre
Eventual height: 45cm
Eventual spread: 30cm
Positions