The Plants
Hydrangea macrophylla 'Zebra'
Hydrangea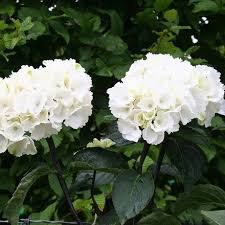 £25.99
The glowing white flowerheads and lush green foliage provide a brilliant contrast to the near-black stems. This new hydrangea is perfect for adding a burst of colour to a partially shaded bed and will also make a fine, informal, flowering hedge.
Type
Foliage: Deciduous
Hardiness: Hardy
Vigour: Medium growing
Uses
Beds and borders
Flower arranging
Cottage style garden
Containers
Hedging
Special features
Low maintenance
Autumn interest
Care instructions
Grow in moist but well-drained acidic to neutral soil in full sun or partial shade. To enhance flowering prune hard in early spring, cutting back the previous season's shoots to within a few buds of the permanent, woody framework of the plant. Flowers will be lavender-blue on acidic soils with a pH 5.5. When grown on neutral soil, (with a pH of 7), the flowers will predominantly be pink.
Dimensions
Size: Medium
Pot size: 5 litre
Eventual height: 100cm
Eventual spread: 100cm
Positions
Aspects
Soil types
Soil pH ranges
Special conditions