The Plants
Hydrangea paniculata 'Pinky Winky'
hydrangea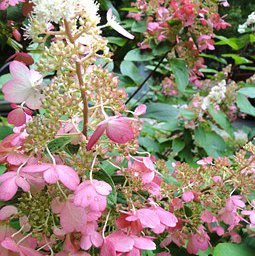 £15.99
A very unique new hardy Hydrangea with massive two-toned, white and pink flowers. strong upright red stems hold the large blooms up . The flowers heads continue to grow throughout the season and as the older flowers turn dark pink the new flowers continue to emerge white. The effect is stunning.
Type
Award of Garden Merit
Foliage: Deciduous
Hardiness: Hardy
Vigour: Medium growing
Uses
Beds and borders
Flower arranging
Cottage style garden
Containers
Special features
Care instructions
Grow in moist but well-drained acidic to neutral soil in full sun or partial shade. To enhance flowering prune hard in early spring, cutting back the previous season's shoots to within a few buds of the permanent, woody framework of the plant.
Dimensions
Size: Medium
Pot size: 3 litre
Eventual height: 150cm
Eventual spread: 100cm
Positions
Soil types
Soil pH ranges
Special conditions