The Plants
Lavandula 'Arctic Snow'
lavender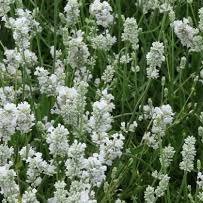 £8.99
Dense spikes of pure white, fragrant flowers in summer which shine out among aromatic, grey-green leaves. This is a compact variety of English lavender that makes a gorgeous, informal flowering hedge, especially for edging a path and border, and brushing against it releases its heady fragrance. The flower-spikes are highly attractive to bees and other beneficial insects.
Type
Foliage: Evergreen
Hardiness: Hardy
Vigour: Medium growing
Uses
Beds and borders
Flower arranging
Cottage style garden
Containers
Mediterranean style garden
Special features
Attractive to wildlife
Drought tolerant
Evergreen
Winter interest
Attractive to bees
Scented foliage
Scented flowers
Care instructions
Grow in well-drained soil in full sun If trimmed back after the flowers start to fade, then you may be delighted with a second flowering later in the season. Trim back in October, taking care not to cut into old wood.
Dimensions
Size: Small
Pot size: 2 litre
Eventual height: 50cm
Eventual spread: 50cm
Positions
Aspects
Soil types
Soil pH ranges
Special conditions