The Plants
Rosa 'Darcey Bussell'- shrub rose
David Austin rose containerised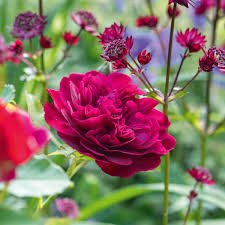 £22.99
Beautiful flowers are produced freely and with excellent continuity. When young, their outer petals form a perfect ring around an inner cup; gradually opening out to form a perfect rosette. The colour is a deep rich crimson that takes on a tinge of mauve just before the petals drop. It has a pleasing, fruity fragrance with hints of green. This rose, with its short, bushy growth, is an excellent shrub for the front of the border or for planting in formal rose beds. It will make an excellent plant for a large pot. It is our first fully double crimson to be released since the best selling William Shakespeare 2000 and is perfect for gardeners who would prefer a more compact shrub.
Type
Foliage: Deciduous
Hardiness: Hardy
Vigour: Medium growing
Uses
Beds and borders
Flower arranging
Cottage style garden
Specimen
Special features
Care instructions
Grow in moist but well-drained soil in full sun. Do not forget to water well as roses are very thirsty plants, especially during a very hot spell. All Bush or Shrub Roses should be pruned down in the spring to half their height, removing all dead wood.
Dimensions
Size: Large
Pot size: 4 litre
Eventual height: 90cm
Eventual spread: 90cm
Positions
Aspects
Soil types
Soil pH ranges