The Plants
Rosa 'Scepter'd Isle' - shrub rose
David Austin rose containerised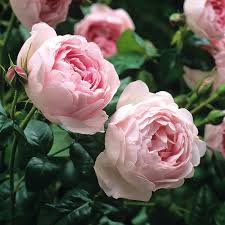 £22.99
This pretty rose bears numerous cupped flowers, each with yellow stamens. They are a lovely light pink, becoming paler on the outer petals, and have a powerful myrrh fragrance. It forms an elegant, upright shrub, its blooms held gracefully above the foliage. The name is taken from John of Gaunt's speech, expressing his love for England, in Shakespeare's Richard II. David Austin, 1996.
Type
Foliage: Deciduous
Hardiness: Hardy
Vigour: Medium growing
Uses
Beds and borders
Flower arranging
Cottage style garden
Specimen
Special features
Care instructions
Grow in moist but well-drained soil in full sun. Do not forget to water well as roses are very thirsty plants, especially during a very hot spell. All Bush or Shrub Roses should be pruned down in the spring to half their height, removing all dead wood.
Dimensions
Size: Medium
Pot size: 4 litre
Eventual height: 120cm
Eventual spread: 120cm
Positions
Aspects
Soil types
Soil pH ranges