The Plants
Rosa 'Tranquility'
David Austin rose containerised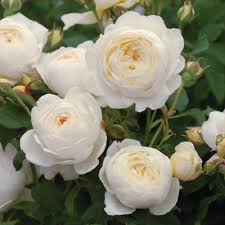 £22.99
Beautifully rounded flowers, with neatly placed petals making up perfect rosettes. The buds are lightly tinged with yellow but as the flowers open they become pure white. A vigorous shrub; its growth is bushy and upright, clothed in light green foliage, curving outwards in a most attractive manner. With its pure white flowers, this rose lives up to its name. David Austin, 2012.
Type
Foliage: Deciduous
Hardiness: Hardy
Vigour: Medium growing
Uses
Beds and borders
Flower arranging
Cottage style garden
Specimen
Special features
Care instructions
Grow in moist but well-drained soil in full sun. Do not forget to water well as roses are very thirsty plants, especially during a very hot spell. All Bush or Shrub Roses should be pruned down in the spring to half their height, removing all dead wood.
Dimensions
Size: Medium
Pot size: 4 litre
Eventual height: 125cm
Eventual spread: 125cm
Positions
Aspects
Soil types
Soil pH ranges