The Plants
Rudbeckia occidentalis 'Black Beauty'
black-eyed susan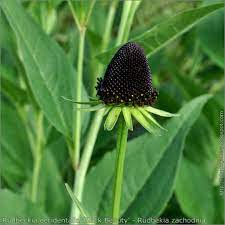 £8.99
A very unusual Rudbeckia with light green bracts which form a starry ruff around a large, cone-shaped flowerhead, in the deepest velvety black. As the tiny florets open up one by one, from the bottom up - a golden 'wedding ring' of pollen forms around it, creating an eye-catching contrast attracting pollinators.
Type
Foliage: Deciduous
Hardiness: Hardy
Vigour: Fast growing
Uses
Beds and borders
Flower arranging
Cottage style garden
Contemporary style garden
Special features
Attractive to wildlife
Low maintenance
Drought tolerant
Ground cover
Attractive to bees
Architectural
Care instructions
Grow in any moist, preferably heavy, but well-drained soil. Cut back to the ground in late autumn. Lift and divide congested colonies in autumn or spring.
Dimensions
Size: Medium
Pot size: 2 litre
Eventual height: 60cm
Eventual spread: 30cm
Positions
Aspects
Soil types
Soil pH ranges
Special conditions