The Plants
Sedum 'Purple Emperor'
stonecrop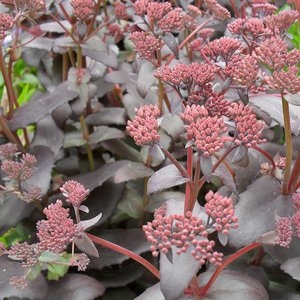 £7.99
The best dark-leaved sedum of all, finely crimped foliage with a dark sheen, topped by upright stems of ruby-red flowers which begin in late summer and persist well into autumn. Leave heads over winter to provide structure in the garden, not only do they provide food for wildlife but look lovely rimed with frost. This versatile perennial is a perfect filler plant for a sunny, well-drained spot and a valuable source of nectar for butterflies and bees.
Type
Foliage: Deciduous
Hardiness: Hardy
Vigour: Fast growing
Uses
Beds and borders
Flower arranging
Cottage style garden
Contemporary style garden
Gravel garden
Special features
Attractive to wildlife
Low maintenance
Drought tolerant
Architectural
Care instructions
Grow in neutral to slightly alkaline well-drained soil in full sun. Will tolerate some shade and slightly acidic soil. The flowerheads look great left during the winter to add shape and texture to your border. In February and March cut back the old flowerheads. Once established, sedums can have a tendency to flop leaving an open and unsightly centre, especially in fertile soil. One technique to help prevent this is the 'Chelsea chop'. During the last week of May (Chelsea Flower Show week), cut one in every three stems back to the ground. This will produce plants that are less lush and flower slightly later.
Dimensions
Size: Small
Pot size: 2 litre
Eventual height: 45cm
Eventual spread: 45cm
Positions
Soil pH ranges
Special conditions