The Plants
Agapanthus 'Big Blue'
african lily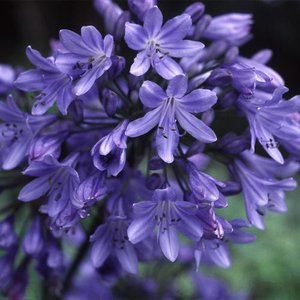 £9.99
A compact, clump-forming, frost hardy, evergreen perennial with broad, strap-shaped, dark green leaves and, throughout summer, sturdy, erect stems bearing dense umbels of trumpet-shaped, blue flowers, paler at the petal margins.
Type
Foliage: Deciduous
Hardiness: Half hardy
Vigour: Fast growing
Uses
Beds and borders
Flower arranging
Contemporary style garden
Containers
Mediterranean style garden
Specimen
Special features
Low maintenance
Attractive to bees
Architectural
Care instructions
The Agapanthus plant needs a well-drained but moisture retaining soil. However it will not tolerate water logged soil. It does best in a warm, sheltered position in full sun for most of the day. In colder areas it is best protected over winter with a dry mulch of sand or straw. Apply a 15-22cm deep layer around plants in autumn or early winter and remove in spring before growth starts. Divide clumps every 2 to 3 years in early spring.
Dimensions
Size: Medium
Pot size: 2 litre
Eventual height: 120cm
Eventual spread: 45cm
Positions
Aspects
Soil types
Soil pH ranges
Special conditions