The Plants
Astrantia major 'Roma'
masterwort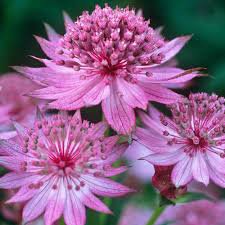 £10.00
Delicate, papery, soft pink flowers which are held on wiry stems above attractive deeply lobed, mid-green leaves. This delightful masterwort is a vigorous variety with a much longer flowering period than most astrantias. A favourite amongst florists for both fresh and dried flower arrangements and is ideal for a cottage garden.
Type
Foliage: Deciduous
Hardiness: Hardy
Vigour: Medium growing
Uses
Beds and borders
Flower arranging
Cottage style garden
Woodland area
Special features
Low maintenance
Ground cover
Care instructions
Deadhead before seed is ripe to prevent self-seeding. After flowering, plants can be rejuvenated by cutting them back close to the ground - fresh new foliage and a late crop of flowers start appearing shortly after. Spray for mildew during the growing season. Divide in Spring.
Dimensions
Size: Small
Pot size: 2 litre
Eventual height: 60cm
Eventual spread: 40cm
Positions
Aspects
Soil types
Soil pH ranges