The Plants
Catananche caerulea
cupids dart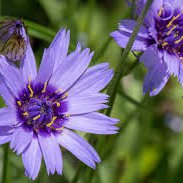 £9.00
Papery, bright blue dandelion-shaped blossoms are excellent for cutting, fresh or dried. Flowers from early to late summer and are at their peak in midsummer.
Type
Foliage: Deciduous
Hardiness: Hardy
Vigour: Medium growing
Uses
Beds and borders
Flower arranging
Cottage style garden
Special features
Care instructions
Grow in well-drained soil in full sun.
Dimensions
Size: Small
Pot size: 2 litre
Eventual height: 70cm
Eventual spread: 30cm
Positions