The Plants
Clematis 'Princess Kate'
clematis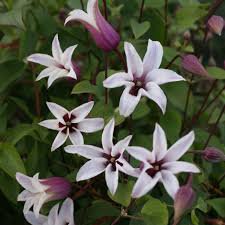 £14.99
Lovely new clematis with upright to nodding, bell-shaped flowers to 6cm long, that flare out widely towards their pointed tips. The petals have an attractive colouring, being white on the inside and stained reddish-purple on the outside. These petals form around a boss of rich plum coloured stamens, which become more and more noticeable as the flowers open. The overall effect is very pretty, and as the flowers appear throughout summer and into the autumn, it has a long season of interest too.
Pruning group 3.
Type
Foliage: Deciduous
Hardiness: Hardy
Vigour: Fast growing
Uses
Beds and borders
Cottage style garden
Contemporary style garden
Care instructions
Grow in well-drained soil in full sun or partial shade. It grows and flowers best if its roots remain cool under a vegetative layer or thick mulch. As with most clematis, this selection adds a vertical element to the garden and looks best when trained on a fence, trellis or pergola. Prune after flowering.
Dimensions
Size: Medium
Pot size: 2 litre
Eventual height: 350cm
Eventual spread: 100cm
Positions
Aspects
Soil types
Soil pH ranges