The Plants
Clematis 'Mrs Cholmondely'
clematis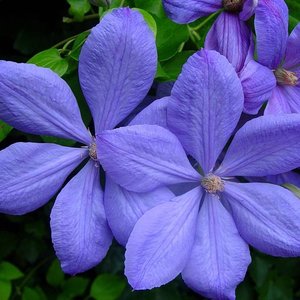 £11.00
A lovely Clematis with lavender-blue, rounded sepals, deeply veined along the mid ribs which are paler in colour and white and chocolate coloured stamens. Flowers late spring to late summer.
Type
Award of Garden Merit
Foliage: Deciduous
Hardiness: Hardy
Vigour: Fast growing
Uses
Beds and borders
Cottage style garden
Contemporary style garden
Special features
Low maintenance
Scented flowers
Care instructions
Plant in a moisture-retentive, well-drained soil, with the roots and base of the plant kept cool and shaded by other plants or a layer of pebbles at the base. Plant with the crown 5-8cm (2-3in) deep to encourage new shoots to grow from below ground level. Prune in late Winter or early Spring.
Dimensions
Size: Medium
Pot size: 2 litre
Eventual height: 250cm
Eventual spread: 100cm
Positions
Aspects
Soil types
Soil pH ranges