The Plants
Clematis 'Nelly Moser'
clematis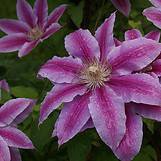 £10.99
One of the best-known varieties of clematis. It is a distinctive colour, a soft pink-mauve with a darker bar down each petal. Flowers May to June and again in September.
Type
Award of Garden Merit
Foliage: Deciduous
Hardiness: Hardy
Vigour: Medium growing
Uses
Beds and borders
Cottage style garden
Contemporary style garden
Special features
Care instructions
Grow in well-drained soil in partial shade. Will tolerate full sun but the pale pink flowers fade badly in strong sun. To prune, remove any dead or weak stems in late winter or early spring and cut remaining stems back to the highest pair of strong-growing buds. To encourage flowers to cover the whole plant, train the stems so that they are evenly spaced on their support. As new growth appears in mid spring, train this to fill any gaps.
Dimensions
Size: Medium
Pot size: 2 litre
Eventual height: 300cm
Eventual spread: 100cm
Positions
Aspects
Soil types
Soil pH ranges