The Plants
Elaeagnus x ebbingei
oleaster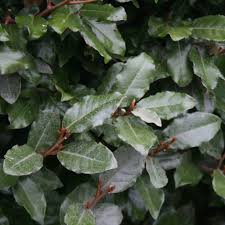 £49.00
A strong, fast-growing shrub with silvery grey/green foliage that form an inpenetrable screen. Elaeagnus ebbingei produces insignificant, tiny white flowers all through the summer and well into the autumn. Their size belies their incredible fragrance. Its tolerant nature means that it is a good plant for many difficult situations, including areas that are blasted by coastal winds and places with dry soil.
Type
Foliage: Evergreen
Hardiness: Hardy
Vigour: Fast growing
Uses
Beds and borders
Flower arranging
Cottage style garden
Contemporary style garden
Containers
Gravel garden
Mediterranean style garden
Hedging
Special features
Attractive to wildlife
Low maintenance
Drought tolerant
Evergreen
Scented flowers
Care instructions
Grow in moist and well-drained or well-drained soil in full sun.Will suffer if planted in shallow, chalky soils. Prune to keep in check or clip as a hedge.
Dimensions
Size: Medium
Pot size: 25 litre
Eventual height: 400cm
Eventual spread: 400cm
Positions
Aspects
Soil types
Soil pH ranges