The Plants
Euonymus fortunei 'Silver Queen'
spindletree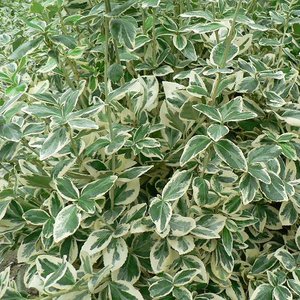 £12.00
A useful and tough plant with attractive dark green leaves whose white margins take on pink tones. Clusters of insignificant, green flowers appear in May and June. This bushy, evergreen shrub makes excellent groundcover and will also climb vigorously against a shady wall or through a tree if supported.
Type
Shrubs
Plants on a budget
Award of Garden Merit
Foliage: Evergreen
Hardiness: Hardy
Vigour: Medium growing
Uses
Beds and borders
Flower arranging
Cottage style garden
Slopes/banks
Contemporary style garden
Containers
Gravel garden
Special features
Low maintenance
Drought tolerant
Evergreen
Ground cover
Winter interest
Care instructions
Grow in well-drained soil in full sun or partial shade. Tip prune young plants in mid to late spring to encourage bushy growth. Remove any reverted green-leaved shoots as soon as they appear, cutting them back to the original branch.
Dimensions
Size: Small
Pot size: 2 litre
Eventual height: 250cm
Eventual spread: 250cm
Positions
Aspects
Soil types
Soil pH ranges
Special conditions