The Plants
Helleborus orientalis 'White Lady'
lenten rose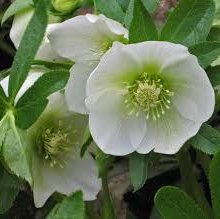 £8.99
A lovely hellebore with large white flowers. Helleborus bring a magical touch to the garden during the winter whilst most other plants do not look their best. The large cup shaped flowers have a dainty appearance that defy nature by surviving the cold. The glossy dark green evergreen foliage highlights the true beauty of the dappled flower. Caution: Harmful if eaten/skin irritant.
Type
Foliage: Evergreen
Hardiness: Hardy
Vigour: Medium growing
Uses
Beds and borders
Flower arranging
Cottage style garden
Woodland area
Special features
Attractive to wildlife
Low maintenance
Winter interest
Attractive to bees
Care instructions
Grow in neutral to alkaline soil including heavy soil. Even though it is semi-evergreen it is advisable to cut back the old leaves down to the ground in January or February. This will show off the emerging flowers to best effect and it also helps to get rid of foliar diseases such as Hellebore leaf spot.
Dimensions
Size: Small
Pot size: 2 litre
Eventual height: 45cm
Eventual spread: 45cm
Positions