The Plants
Hydrangea anomala subsp. petiolaris
climbing hydrangea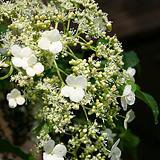 £19.99
A lovely and versatile climber with heart shaped green leaves and masses of white lacey flowerheads from June to July. This climbing Hydrangea thrives in some of the most shady, inhospitable areas of the garden. Although it is slow to establish, it will eventually cover a large wall or fence, clinging by aerial roots.
Type
Award of Garden Merit
Foliage: Deciduous
Hardiness: Hardy
Vigour: Slow growing
Uses
Beds and borders
Cottage style garden
Special features
Care instructions
Grow in moist but well-drained acidic to neutral soil in full sun or partial shade. This hydrangea flowers on the previous season's wood, so if you need to prune it back, do so in late autumn or early spring, but be warned that this will restrict flowering the following year.
Dimensions
Size: Medium
Pot size: 3 litre
Eventual height: 500cm
Eventual spread: 1500cm
Positions
Aspects
Soil types
Soil pH ranges