The Plants
Hydrangea arborescens ''Pink Annabelle'
hydrangea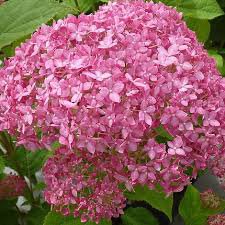 £15.99
A lovely new pink-flowered form of the ever-popular 'Annabelle' is sure to be a big hit - and like its namesake, it will reliably produces its giant (up to 30cm across) flower clusters on strong stems that do not flop under their weight.
Type
Award of Garden Merit
Foliage: Deciduous
Hardiness: Hardy
Vigour: Fast growing
Uses
Beds and borders
Flower arranging
Cottage style garden
Containers
Special features
Care instructions
Grow in moist but well-drained acidic to neutral soil in full sun or partial shade. Although the only essential work is to remove dead wood in spring, these species flower more prolifically when pruned back annually to a framework of branches. Each spring, cut back last year's stems to a pair of healthy buds to maintain a permanent framework. To produce larger flower panicles on strong, upright branches, hard prune to the lowest pair of healthy buds, creating a low framework of branches. This usually results in a pruned framework of no more than 25cm (10in) high but, if more height is required, cut to about 60cm (2ft) tall.
Dimensions
Size: Large
Pot size: 3 litre
Eventual height: 150cm
Eventual spread: 150cm
Positions
Aspects
Soil types
Soil pH ranges